Regular price
Sale price
$24.00 USD
Unit price
per
Sale
Sold out
Elevate Your Culinary Creations with Yōko Matcha's Organic Matcha

Calling all culinary enthusiasts and food lovers! Discover the endless possibilities our Organic Culinary Grade Matcha brings to your kitchen. Elevate your favorite recipes with a touch of vibrant green and unlock a world of creative culinary delights.

Create Culinary Masterpieces
Add a teaspoon of matcha to your smoothies, baked goods, or homemade energy bars for a vibrant and healthy twist. Let your creativity soar in the kitchen.
Experiment with matcha-infused desserts, such as matcha macarons, matcha ice cream, or matcha-flavored cakes. Impress your guests with delightful and visually stunning treats.
Give your savory dishes a unique flavor profile by incorporating matcha into sauces, dressings, or even a sprinkle on top of your favorite salads. Elevate your everyday meals to extraordinary culinary experiences.
The Pure Essence of Yōko Matcha's Organic Matcha
At Yōko Matcha, we are dedicated to providing you with the highest quality organic matcha. Our Organic Culinary Grade Matcha is sourced from pristine tea gardens, harvested with care, and reflects our commitment to excellence.

Unmatched Quality and Flavors
Experience the smooth and mellow flavor that sets our matcha apart, sourced from organic tea leaves cultivated with utmost care to ensure purity and taste.

Preserving the delicate flavor and nutrients, we follow traditional stone grinding techniques. Each bag of matcha encapsulates the true essence of this extraordinary tea.

Independently tested for quality and purity, our Organic Culinary Grade Matcha guarantees an exceptional matcha powder experience.
See Other Matcha options: 
Organic Ceremonial Grade Matcha
Organic Daily Grade Matcha

Details

Origin: Shizuoka, Japan
Size Net Weight: 3.52 oz (100g)
Package: Re-sealable Foil Bag
Refrigerate after opening
Perfect for baking, cooking, and blended drinks!
Ingredients

Organic Tea Leaves (Shade Grown Tencha*) from the Third Harvest
Shipping

Standard shipping rates apply.

Free shipping on orders over $35.
Share
View full details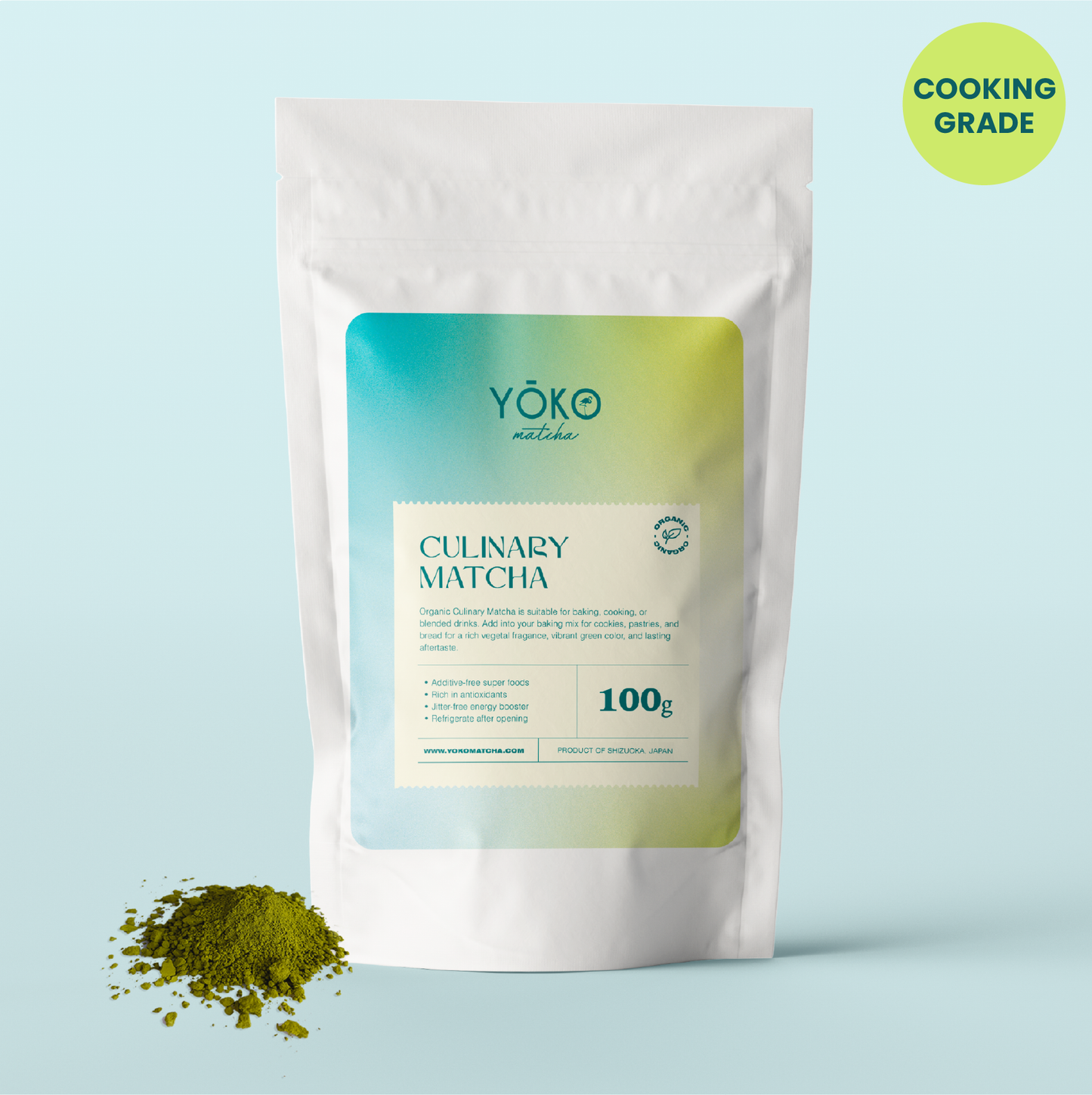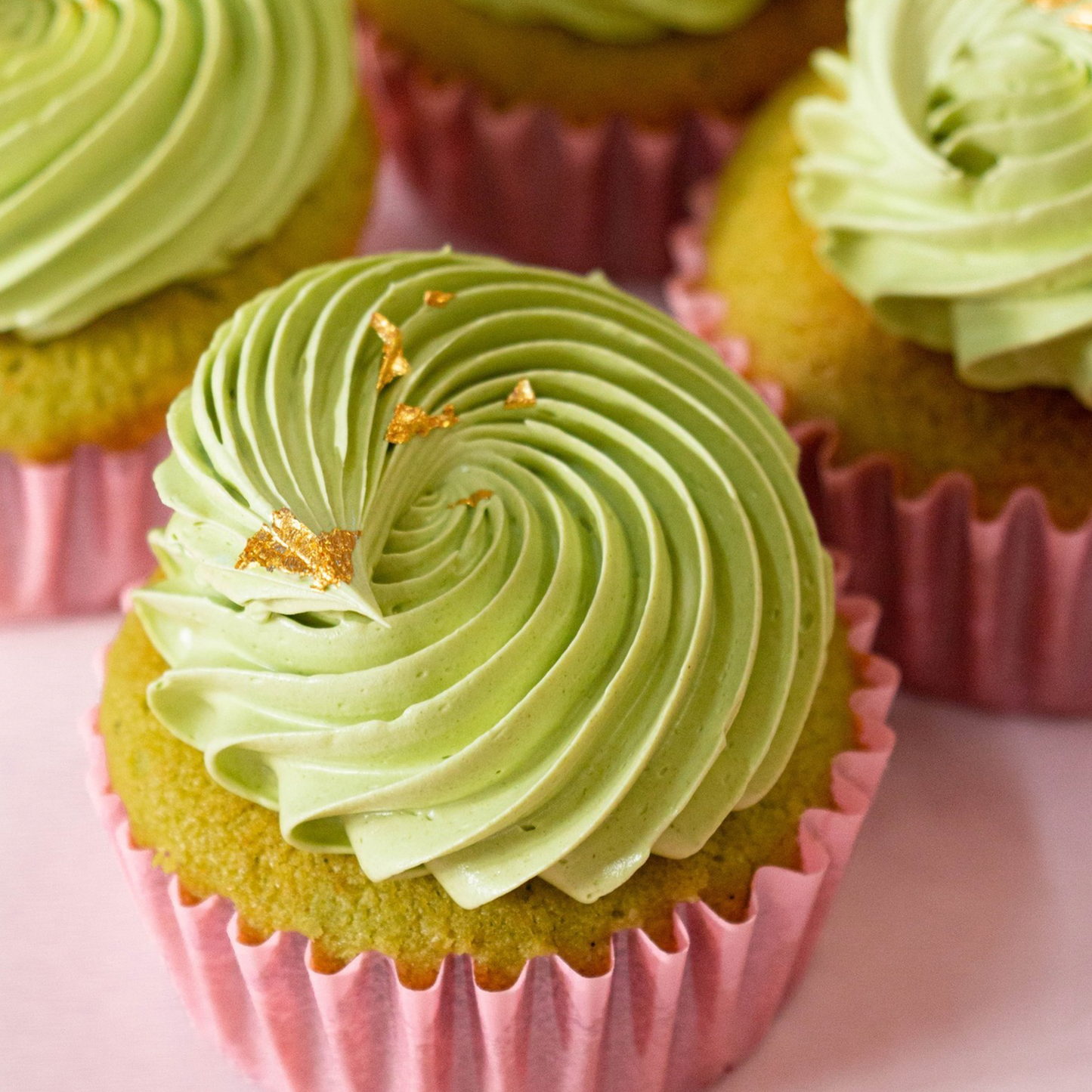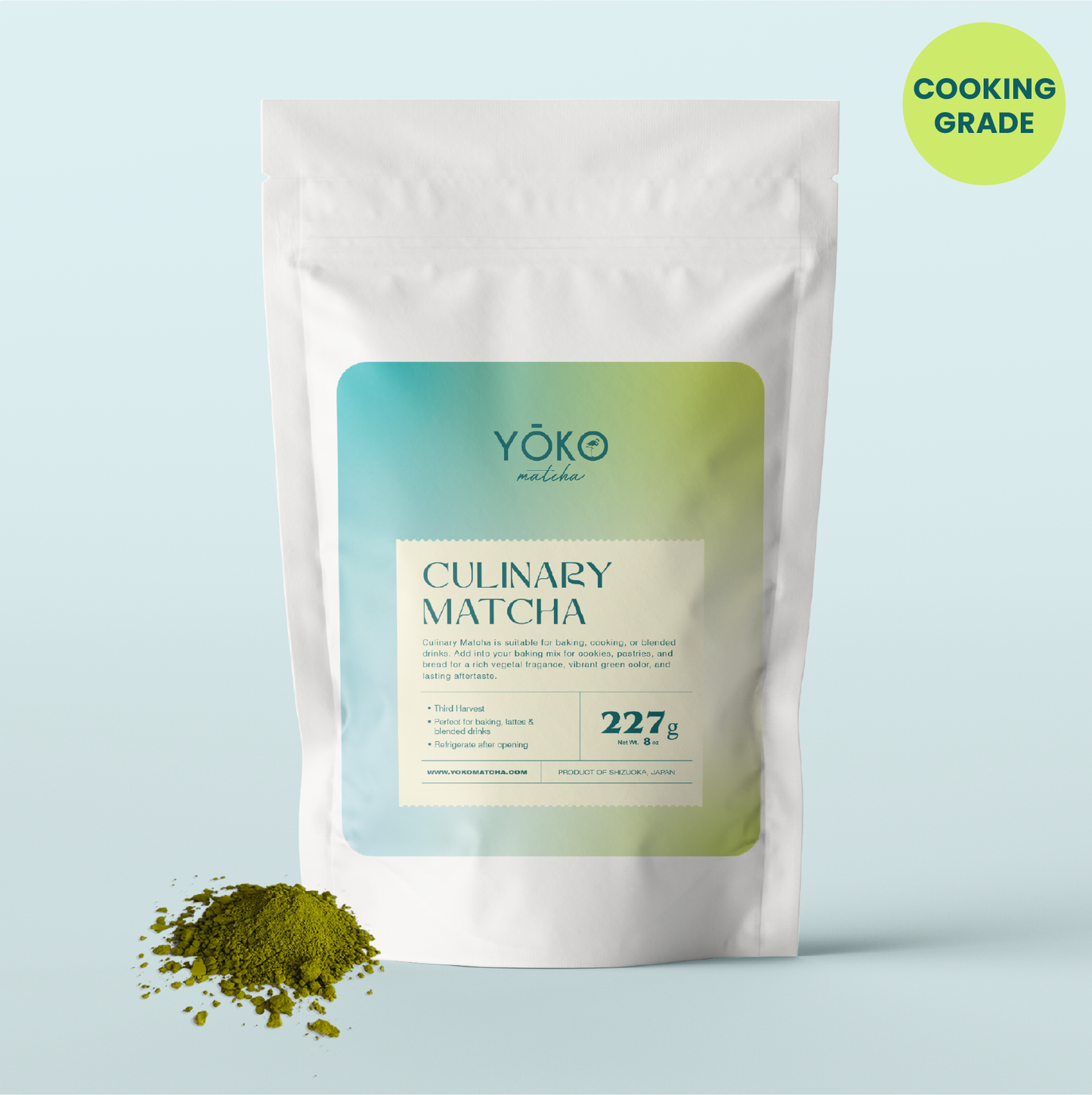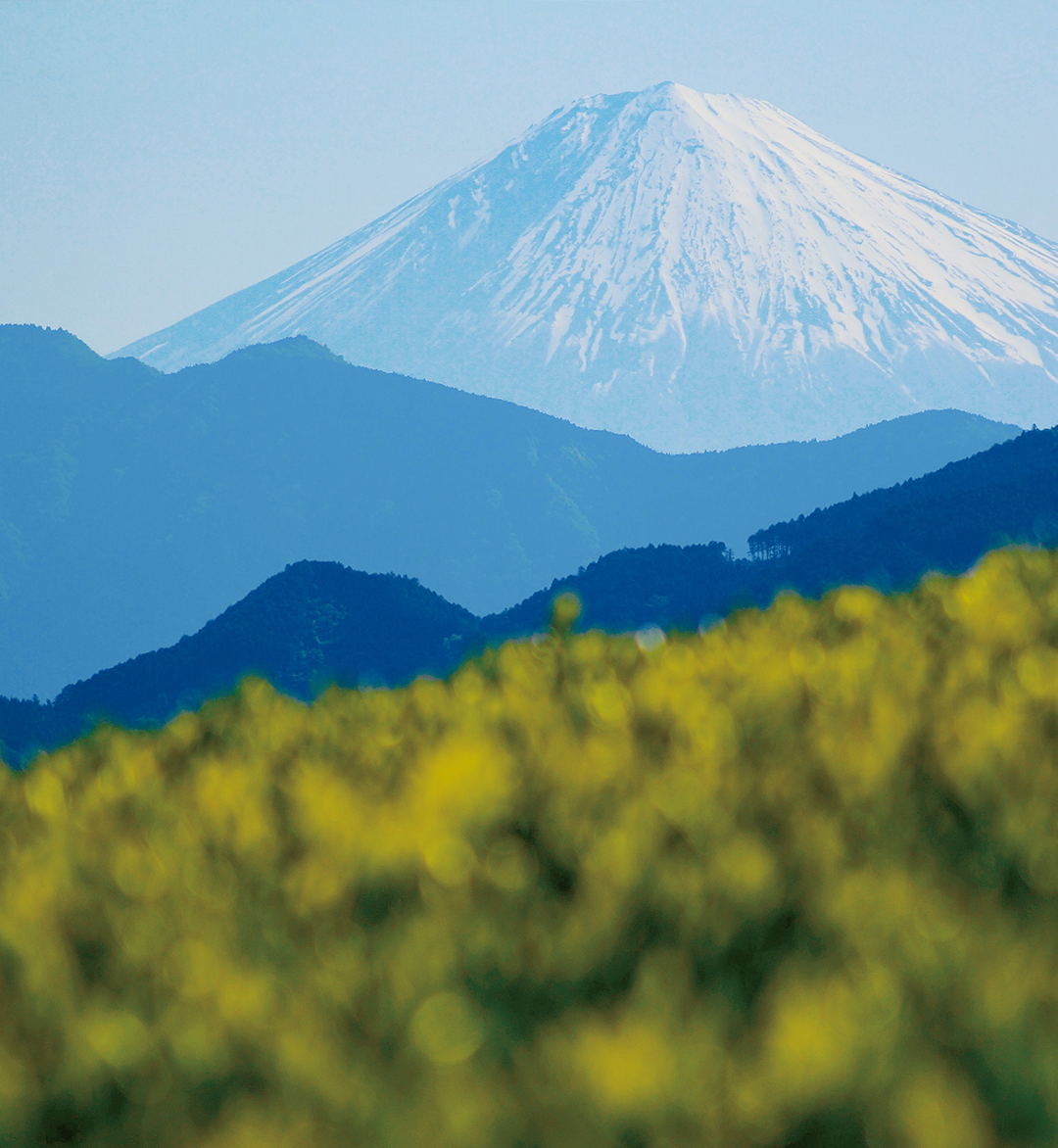 Authentic Matcha from Shizuoka, Japan
Embrace the Rich Tradition and Unmatched Quality
Sourced and imported from Shizuoka, Japan. Renowned for its exceptional smoothness and delightful sweet aroma, our Organic Ceremonial Grade Matcha captures the true essence of this revered Japanese tea. Each sip embodies centuries of tradition and meticulous craftsmanship, making it the perfect choice for those seeking an authentic matcha experience. With each cup, you will be transported to the lush tea fields of Shizuoka, experiencing the true essence of Japanese tea culture.
Learn more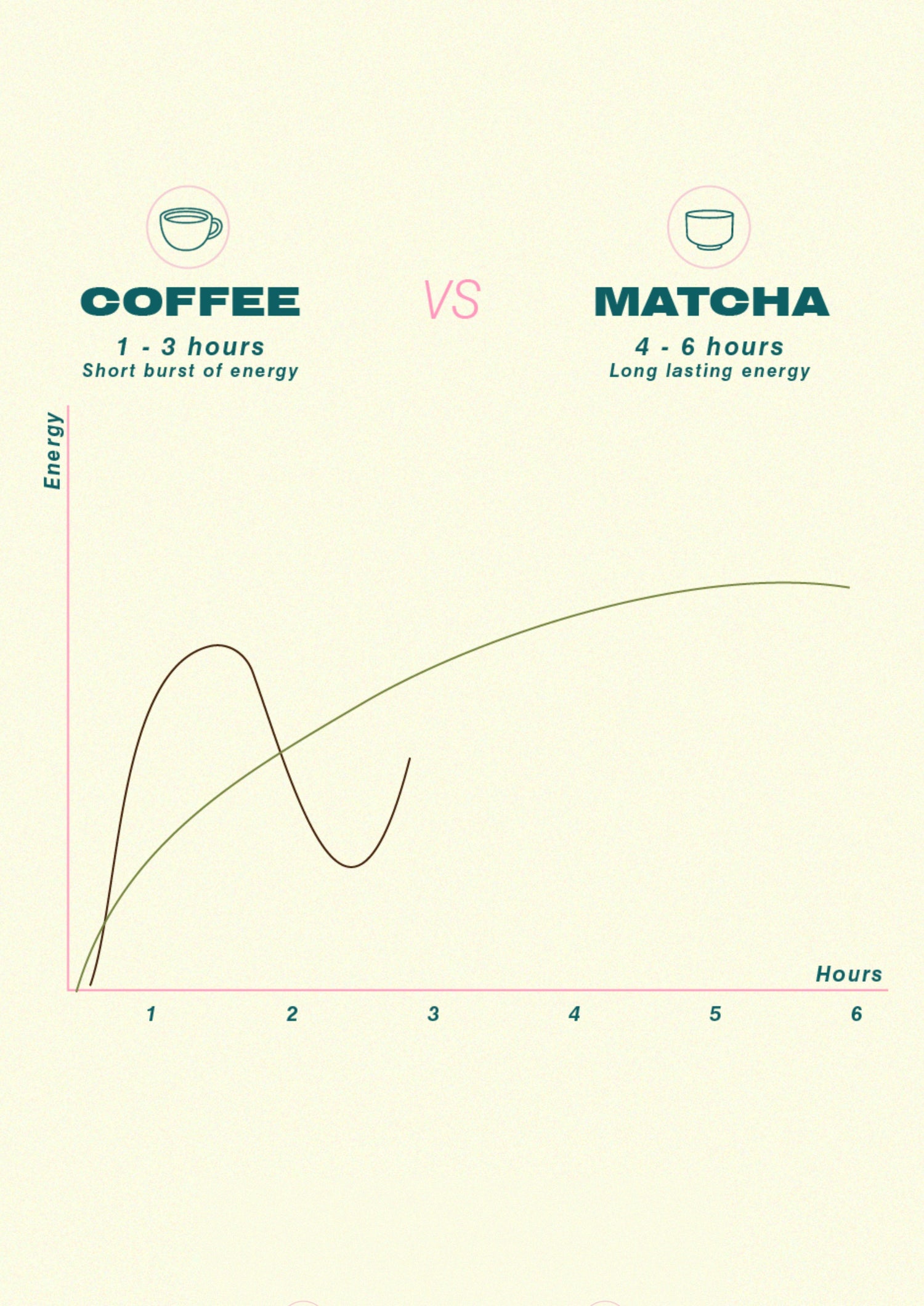 Jitter-Free Energy Boost
Do you know that matcha has 3x the caffeine of a cup of steeped tea? That is the equivalent of 1 cup of coffee! Thanks to a natural relaxation inducing substance called L-Theanine, you won't feel any jitters from drinking matcha.
Need a natural energy boost?
Look no further than our matcha selection! We offer three grades of this antioxidant-rich powder, so you can choose the right one to fit your needs. Whether for daily consumption or culinary experimentations – we've got it all covered. Unlock new potential with quality matcha today!